Corporate Cup Challenge
Each Fall, teams of co-workers enjoy a morning full of outdoor fitness challenges for the most fun you'll ever have together outside the office!
Working Well Breakfast
Kick off the new year with Working Well and celebrate companies invested in their employees' well-being!
Community Resources
Join us for these informative meetings where you have a chance to make a difference in the well-being of our workforce.
Working Well News and Updates
Registration for the Corporate Cup Challenge is Now Open!
Join us October 8, 2022 at Maclay Gardens. Teams of four (co-ed, all male and all female) join forces to compete for the Corporate Cup – a designation that shows their commitment to teamwork, team building and overall fitness. Learn more and register here!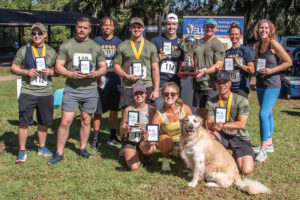 Team Up, Compete and Win Ultimate Bragging Rights!
Grab your favorite work buddy and compete in this wacky course of challenges that are sure to put your office skills, agility and intellect to the test. The team that makes it through the entire course with the fastest time will be awarded a trophy and bragging rights as the Office Olympics World Champion!
A Fresh Take on Rowing…Getting Wet NOT Required! 
We are excited to announce Sweat Therapy Fitness will be sponsoring the rowing leg of the Corporate Cup Challenge. Participants will partake in a five minute row challenge on IndoRow water rowers overlooking the Lake Hall at Maclay Gardens. The farthest distance wins!